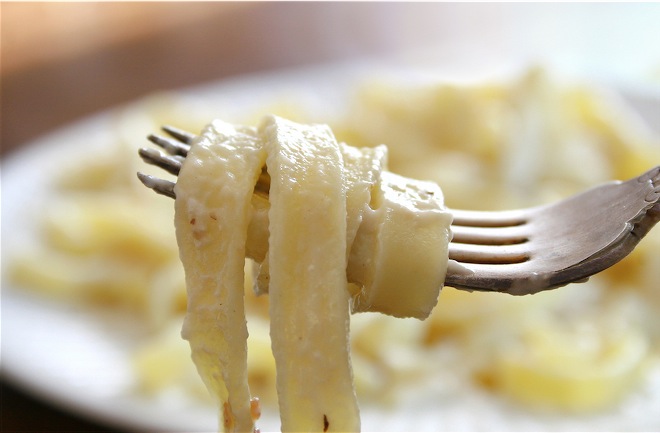 I can't believe how

easy

this was!! Wanna know the secret ingredient? Cream cheese. Whoever first thought of using this

magnificent

ingredient in Alfredo Sauce was pure genius. You can't tell it's in there at all! The result is

cheesy

...

rich

....

smooth

...and just perfect. Not to mention it's super

creamy

and

comforting

. It's everything you love about the perfect Alfredo dish. I don't usually like the Alfredo Sauce you buy in the jar, but I like what most restaurants have and I absolutely LOVE this!! The next time I make this, I'm adding chopped asparagus, sun dried tomatoes, and mushrooms. If you'd like to make this even richer (you totally don't need to, but some people think the richer the better), you can substitute cream in place of the milk.
Yield: about 6 servings
Ingredients:
1/2 cup butter
1 teaspoon minced garlic
1 (8 ounce package cream cheese
1/2 teaspoon garlic powder
1 1/3 cups milk
6 ounces grated Parmesan cheese
1/4 teaspoon ground black pepper
1 pinch of nutmeg
salt to taste
1 tablespoon vegetable oil
2 skinless, boneless chicken breast halves, cut into bite sized pieces
salt and pepper to taste
Directions

:
Meanwhile, heat oil in a medium skillet over medium heat. Cook chicken until it's no longer pink in the center and juices run clear. Drain excess fat.

Stir chicken into prepared sauce.

Toss with hot pasta to serve.