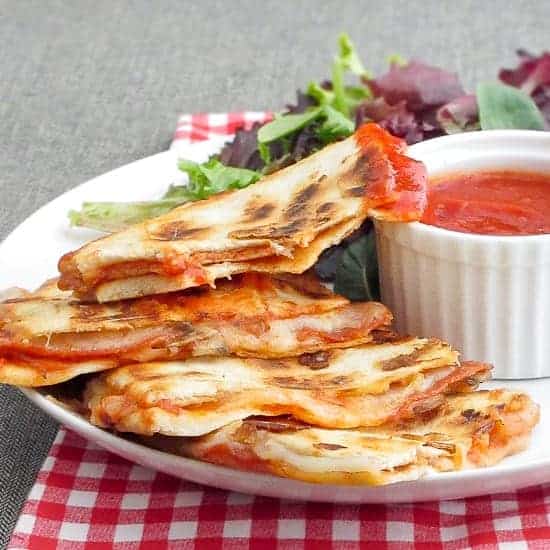 Don't you just love my creative little name? Half pizza + half quesadilla = PIZZADILLA! This is such a

quick

and

yummy

dinner/lunch/snack/appetizer that you can whip up in no time at all.
The next time your family is having an argument about whether they want pizza or Mexican food for dinner, w
hy not get a little creative in the kitchen and find a way to blend the two?
This recipe is
so
versatile
. Whatever you want to add to your pizzadilla, it will
always
turn out awesome. So experiment! Use different types of cheeses, pizza sauces (or no sauce, if you want...for a white pizza), vegetables, and meats!
Be sure
not to use too much sauce (no more than a tablespoon and a half) or else it will ooze out and be
very
messy (I made this mistake once and found myself eating a plain tortilla, while a hot, cheesy, marinara mound was sitting on my plate after falling out). Sprinkling cheese on the tortilla before
and
after adding the toppings assures a "seal" - since cheese is sticky...it acts like glue - so the toppings won't fall out of the tortilla. Now your family won't have to argue between pizza or Mexican food...you can thank me later.
Yield: 8 servings