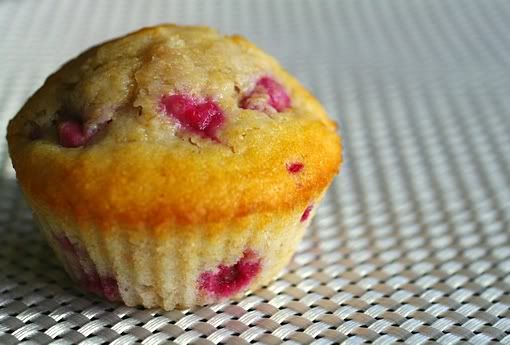 I

love

raspberry and lemon together and I thought it would make the perfect breakfast muffin. And I was right. It totally did. These were

unbelievably

good. (I know I say that about every recipe on this site, but I truly only add the best recipes, so you can trust me.) These muffins have a

perfect

combination of sweet and tart. I had some warm (with whipped cream!), and some cool, and they are

amazing

either way. However, they tasted best - surprisingly...since most muffins taste best fresh from the oven - at room temperature the next day. Once you make these muffins, you'll have one warm of course, since you can't resist...but with the remaining muffins, put them in a plastic bag when just the tiniest bit warm, seal it, and have them the next day. The flavors mellow together and taste absolutely delicious. The muffins are also incredibly

moist

, especially the next day after putting it in a sealed bag....more like a cupcake than a muffin. Make sure to keep the muffins in the muffin tin while cooling; do not take them out of the tin and put them directly onto a cooling rack or else the outside will cool too quickly and get slightly crunchy/less moist. Oh yeah! I forgot to say the best part! These are LOW FAT! I can't even tell you how un-low fat these taste. They only have 3 tablespoons of vegetable oil (healthy fat, as opposed to butter) among the whole dozen muffins. I also made them with yogurt and egg whites, and the yogurt is key to what makes them so moist. This is going to be my go-to muffin recipe for now on!
Yield: 12 muffins
Directions:
I recommend having warm muffins with a dollop of whipped cream. Store left over muffins in a sealed container/bag.