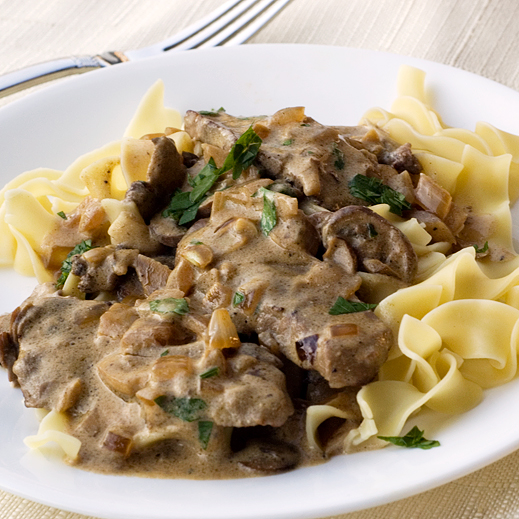 This was my very first time ever eating Stroganoff. It was also my dad's first time, and he is seriously

raving

about it as I type this right now. My mom had Beef Stroganoff a few times growing up, but she said it was disgusting compared to this

delicious

recipe I cooked. Some people would call this "Beef" Stroganoff, but that seems to me more of a Hamburger Helper type dish with ground beef and ketchup (kind of like a Sloppy Joe taste). This dish uses sirloin steak, so I'm calling it Steak Stroganoff. The thing that makes this more unique than other Stroganoff recipes is the fact that this slow cooks for an hour, so the simmering

blends all the flavors together

and the meat gets super

tender

. The tender meat is then mixed with a mushroom cream sauce. I

love

the cream sauce because it's unlike any cream sauce I've ever had. It's not like a rich, Alfredo sauce with heavy cream. It's

lighter

, but still

creamy

and comforting, and uses sour cream and cream cheese. The tartness of the sour cream balances with the sweet, red wine, and the mustard and Worcestershire sauce adds even more depth to the dish. I served this with a side of steamed broccoli, but I recommend serving it with some french bread or garlic bread as well to soak up all the

creamy

sauce. The result is a

comforting

, yet

hearty

meal that everyone will

love

.
Ingredients:
Sliced scallions and freshly grated Parmesan cheese
Directions:
rown the beef strips, then push the beef strips off to one side. Add the onions and half of the sliced mushrooms (4-oz) into the wine/butter mixture and cook slowly for 3 to 5 minutes, then push to the side with the beef strips.
Bring a large saucepan of salted water to a boil. Add the noodles to the pan of boiling water and cook at a low boil until al dente, about 10 minutes. Drain, then toss the noodles with the butter to coat.
To serve:
Arrange the buttered noodles on warm serving plates and top with the stroganoff. Garnish
with desired amount of sliced scallions and freshly grated Parmesan cheese, and serve immediately.