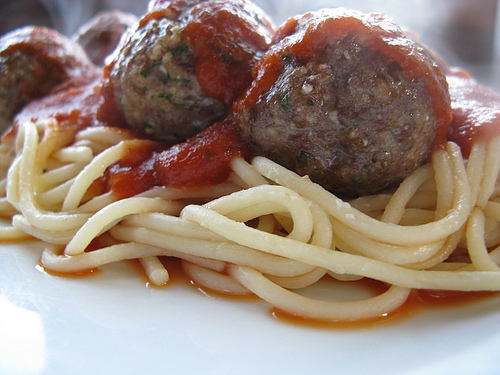 I have finally made the ultimate Italian meatball. My mom has made meatballs before, but they always fell apart really easily and were rather bland (sorry if you're reading this, mom...). I have had really good meatballs a few times at some Italian restaurants, so I wanted to try to create a

knock-your-socks-off

meatball recipe myself. These meatballs literally

melt in your mouth

. I seriously ate like four after just pulling them out of the oven. The milk makes them so incredibly

moist

, and the flavors blend

wonderfully

well together. They have a nice balance of flavors that will only get better once the flavors develop even further in a homemade tomato sauce (the meatballs are

superb

alone, though). I served this over
spaghetti with home made tomato sauce (I'm still working on a killer tomato sauce recipe, and I'll post it as soon as I can!), freshly grated Parmesan cheese, and crusty French bread. It was wayyy better than any spaghetti and meatballs I've

ever

had in any restaurant. I used 80, 20 ground beef and 2% milk, but 90,10 and 95, 5 will also work for the beef, and any low fat milk will certainly work. These make awesome left overs, and freeze well too. Bon Appetit!
Yield: about 12 meatballs