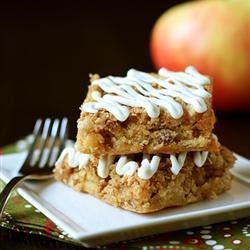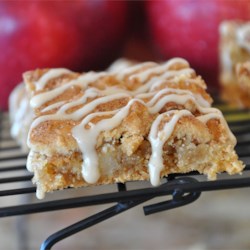 Mmmm...apple cake. It's

chewy, buttery, sweet, and oh-so-apple-y

. There is nothing I'd rather do than sink my teeth into one of these magnificent little apple cake bars. Especially with the cream cheese frosting, they are melt-in-your-mouth perfection. I made these for a Christmas party and let me tell you:

these put all the other desserts to shame.

Seriously, these bars were gone instantly, so I had to apologize for not making more. They look very pretty when you drizzle the cream cheese frosting on them too(: Just a warning: be careful cutting them, cause they're kind of messy due to their chewy, delicate, amazing-ness. These chunky bars are sure to please.
Yield: about 16 squares (1 9x9 inch pan)
Ingredients
Directions
Cream Cheese Frosting:
Ingredients:
1

(3-oz.) package cream cheese, softened

2 tablespoons

butter, softened

2 1/4 cups

powdered sugar

1 teaspoon

vanilla extract

2 tablespoons

milk
Beat first 2 ingredients at medium speed with an electric mixer until creamy. Gradually add powdered sugar, beating at low speed until blended. Stir in vanilla and 1 Tbsp. milk. Add remaining 1 Tbsp. milk, 1 tsp. at a time, stirring until icing is smooth and creamy.
Drizzle or spread on top of cooled bars.
***I drizzled it by placing the frosting in a zip-lock baggie, cutting a very tiny hole, and squeezing it through.