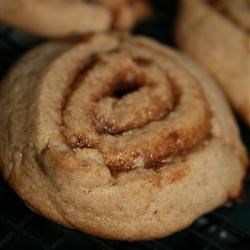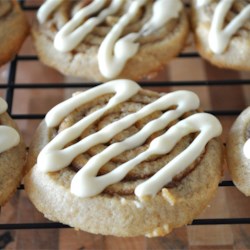 Ahh...cinnamon buns. There's nothing like them. My personal favorite brand of cinnamon buns is a tie between Pillsbury Grands and Cinnabon. I love the gooey textures of Grands, but I adore Cinnabon's cream cheese frosting. I actually tried using Cinnabon's frosting on grands this morning, and the Grands didn't taste as good as they do with their frosting! I was really surprised. The Cinnabon frosting is much more delicate and less sweet than Grands' frosting. I guess both brands just pair their frosting and cinnamon rolls so perfectly, that they shouldn't be changed. The only thing that I think would make the best cinnamon roll is Grands with a home made cream cheese frosting (a little sweeter than Cinnabons). I'll be sure to try it soon(: But anyways...because of my love for cinnamon rolls (or buns..whatever you choose to call them), I saw a recipe for Cinnabun Cookies on allrecipes.com, found here, and I had to make them. I did make a few alterations that made them better, though. I baked them for a party a few months ago, and everyone loved them. I've made them about four times since then, and I've now mastered the recipe. My friend declares them the best cookies she's ever tasted. And I made her a big batch of them for Christmas. I added a glaze for experiencing a true cinnamon roll taste...and they are absolutely amazing. They look so pretty too! I almost didn't want to give it to her because they were so perfect looking. And the great thing is, you can have them for breakfast or dessert.

[

These are definitely on my list for one of the best cookies I've ever made.

] A tall glass of milk on your side is a perfect compliment as well.
Yield: about 18 cookies
For the cookies:
Directions:
***

I mean a very small dollop! About half the size of your fingernail. If you do it too big, it will expand too much and burn the cookie, and the cookie sheet.
For the frosting:
Ingredients:
1 tablespoon butter, melted
1 cup powdered sugar (your may add more if you want it thicker)
Instructions:
1. Mix together all ingredients except the powdered sugar.
2. Gradually beat in the powdered sugar. Mix well.
3. Spread on cooled cookies, or drizzle by squeezing through a zip-lock bag (cut a very tiny hole and squeeze through).