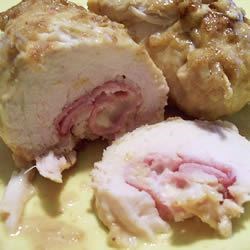 You may have read in my "about" section how I'm definitely more of a baker than a cook. I've tried multiple times to make my parents dinner, and it usually doesn't go well. There was the time I made a stir fry (out of my childrens cook-book) and it was wayyy too salty... I made a sweet and sour chicken but it had absolutely no flavor...and I made a vegetable lasagna a few month ago for them, but my mom refused to eat it...she hated it that much. I honestly didn't think it tasted that bad..so I pretty much had to eat the entire thing myself throughout the week. My parents have made it pretty darn clear that I'm not very good at preparing dinners. "Stick to desserts." ---> that's what they tell me. So this past weekend, I asked them for a chance to redeem myself. I could tell they were kind of nervous (I probably would be too..if I was in their shoes, based on my past failures), but I looked up the top recipes on allrecipes.com, and the 10th place, 5 star, 2985 reviewed recipe was Chicken Cordon Bleu. And let me tell you: it was so easy. It seemed too easy actually. Especially since it had so many good comments. It only took me about 45 minutes tops to make. Place a piece of ham and cheese on a chicken breast, roll it up, fry it, pour in the sauce ingredients, and simmer for 15 mintues. That's it.
I used half olive oil and half butter, instead of all butter, because it prevents the butter from burning. And it makes it healthier! :)

I cooked it less than it stated (15 minutes instead of 30) because overcooking chicken will ruin any recipe...and it turned out perfectly moist, so I'm very glad I did.

The last thing I changed was adding fresh parsley to the sauce and sprinkling it on top of the chicken, just to add a little more flavor.
The result?
I'm not lying when I tell you: it was deeeelish. Definitely one of the best dinner recipes I've ever made. I served it with steamed
broccoli
and mushrooms. The only thing I would do different next time is serve it over rice. The sauce was incredibly delicious with the veggies, and I know it would taste very good with the rice as well. I guess you can conclude that I have redeemed myself and am now proud to say that I will be cooking my parents dinner every Sunday :D I'll keep you posted on them.